Bradley Estate Features New Display Garden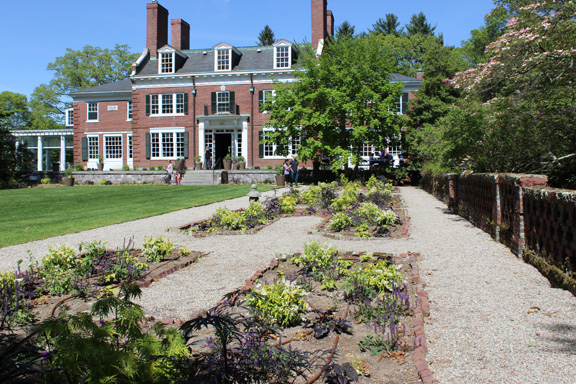 Bradley Estate features new display garden
Recently  I visited the Eleanor Cabot Bradley Estate in Canton, Massachusetts, a property owned by the Trustees of Reservations.  This is one of the Trustees' eleven public garden properties.
It was a beautiful spring day, sun shining and temperatures warm, but not hot.
I had heard about the new display garden, and that's what I wanted to see.
The house which is the Bradley Estate's main structure dates to 1904. Mrs. Bradley established a formal garden, a large kitchen garden, a rhododendron path, and extensive lawns on this property of 90 acres.
The formal garden takes up the area behind the house. It is composed of a large lawn and several parterres.
The parterres with their new shrubs, perennials, and annuals, just planted, make up the new display garden.
What struck me first was that each parterre had the same plants, all in colors of chartreuse and purple.  I found out later that they are the official colors of the Trustees of Reservation as well.
A wonderful brick wall, installed 150 years ago, surrounds this garden. Since the wall dates to the early history of the house, it adds a lot of character to the setting.
As I walked the pathway in this garden, several of the plants that are in the parterre seemed familiar to me. I realized that I grow many of them in my own garden.
Then I found out that the grower http://americangardening.net/dating-shy-girl-tips/ offered these shrubs, perennials, and annuals to the Bradley Estate in hopes that the Estate would become in the future a Proven Winners Signature Garden.
A couple of  lectures are planned with Proven Winners this summer in June and July.
This is the first year the Bradley Estate, under the guidance of its horticulturist Jeff Thompson, is working with Proven Winners.
I hope visitors take advantage of this property and enjoy this new display garden in a landscape designed in America's early 1900s formal period by Boston landscape architect Charles Platt.