Boston Flower Show Honors Capability Brown
Boston Flower Show honors Capability Brown.
Last week the Boston Flower and Garden Show honored England's eighteenth century gardener to the King, Lancelot Capability Brown.
For months Brown has been in the news quite a bit because 2016 was his three hundredth birthday anniversary.
At the Flower Show Joseph Gray Stonework teamed up with  the plant grower Proven Winners to create an exhibit with Brown as the inspiration.
Together they envisioned the Show's theme "Superheroes of the Garden" in the person of Capability Brown.
Brown designed over two hundred gardens in England including Warwick Castle, which has a mythical connection to the legend of King Arthur.
Gray said, "My garden is a fantasy design of the Warwick Castle grounds and the hidden lair of Merlin the Magician."
The exhibit featured this nine-foot high granite fountain of Merlin's face. [below]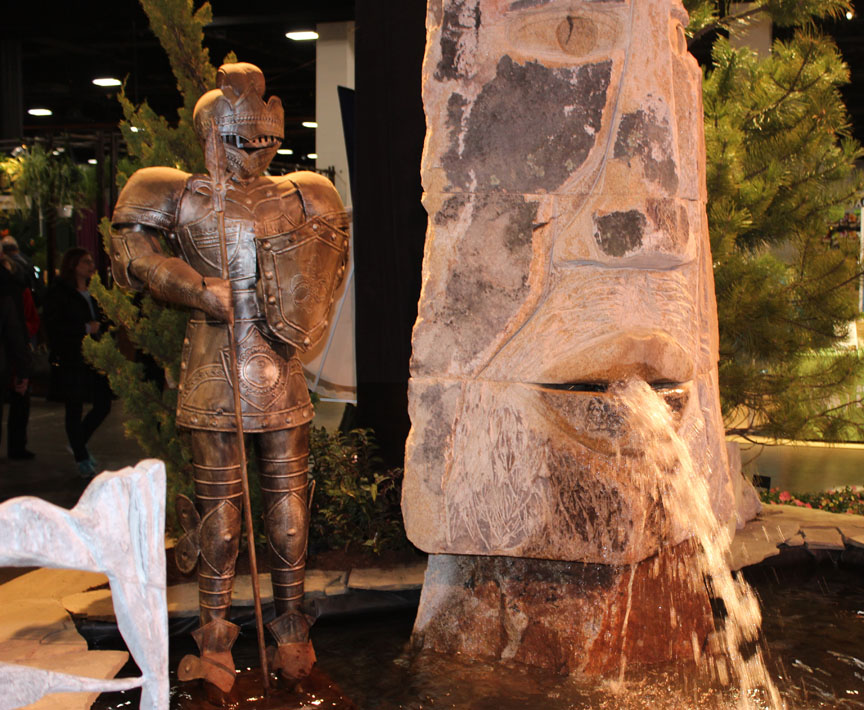 Proven Winners from Pleasant View Gardens in Loudon, New Hampshire provided the many flowers that filled five hundred square feet throughout the exhibit.
Colors like pink in large swathes made a memorable impression on any visitor to this exhibit.
The heavy stone with the delicate looking blooms created a pleasant contrast in this award-winning exhibit and tribute to England's Capabiity Brown, a true 'Superhero in the Garden.'