Book Giveaway: Win a Free Copy of My New Book
Book Giveaway Rules: To be eligible to participate in this Book Giveaway for a copy of my new book America's Romance with the English Garden, you simply write a comment on the blog post below between 8:00 a.m. (EST) Monday, June 3, and 5:00 p.m. (EST) Friday, June 7.  The name of the winner will be drawn from a list of those who comment. You may comment as often as you want but  your name is entered into the drawing only once. The winner will be contacted for a shipping address on Monday, June 10 and will receive a free, signed copy of the book.  Open to US residents only.
–The following excerpt and illustration are taken from my book America's Romance with the English Garden (Ohio University Press, April, 2013).
Rewards of Gardening
In the copy for an 1892 trade card, the C.A. Johnson Company, of Oklahoma, boasted about its contribution to developing a sense of "high culture." The company wrote, "The possession and cultivation of flowering and ornamental plants is not only an evidence of high culture, but is a source of much pleasure and satisfaction to the possessor."
Among its various attributes, gardening could even keep the homeowner out of trouble with the law. D.M. Ferry wrote in its catalog of 1875: "A garden is not by any means a bad savings bank. Out-door work, so engaging and so remunerative, must likewise induce cheerfulness of disposition, and health of body, and must tend to develop that attachment of the citizen to his home, which is one of the strongest safeguards of society against lawlessness and immorality."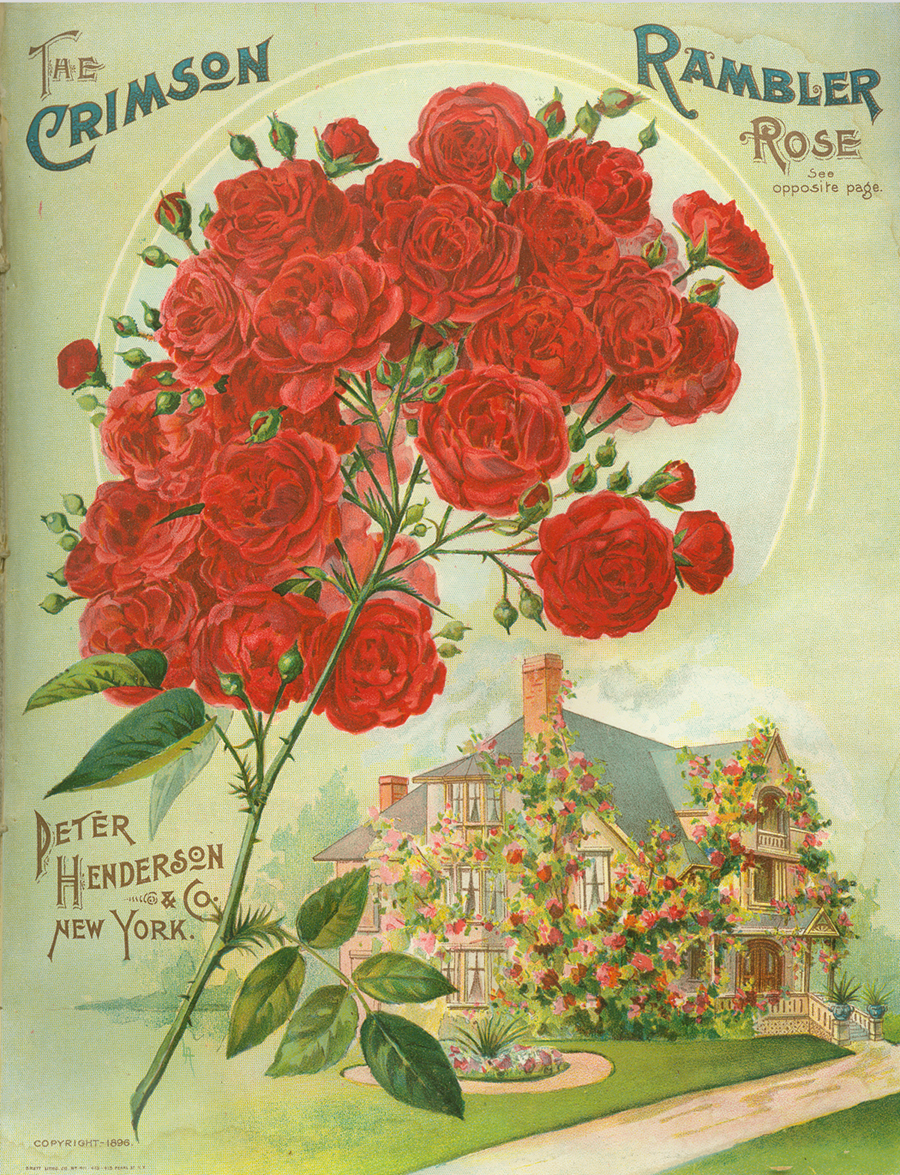 In his 1875 catalog, Joseph T. Phillips, from Pennsylvania, attributed a good home to all who have a garden. He wrote, "The cultivation of the garden, the ornamental planting of our grounds, and the general use of flowers, afford striking proof of the high state of civilization which marks the progress of the present age."
In its catalog of 1891, the California firm Timothy Hopkins Company developed a philosophy of gardening for the middle class. The garden could be understood both as art and as a symbol of social status. The company wrote in its catalog, "The garden is a rare gift to man, a compensation for the troubles and despondencies of life, a place of culture for those higher senses which there alone can find the keenest pleasures. Here there is opened up a world of appreciation and artistic possibilities, which furnishes the mind with most exalted admiration. Withal, the garden brings to man a restfulness of spirit, a satisfaction in living, a broad and charitable view of life, all of which help to make him a more perfect and useful creature."
Gardeners developed a bond with other gardeners, especially when they shared the same neighborhood, as in a suburb. The Childs Company wrote in its 1892 catalog, "Between people who love and cultivate flowers and gardens there is a bond of friendship and sympathy. They are never strangers; they are ever ready to assist each other; they rejoice in the success of each other and deplore each other's failures." The company discussed the bond that exists between gardeners as motivation for gardening. The gardener, the catalog argued, is part of a larger community. The seed company, in this case Childs, also wanted to be part of that group of gardeners.