Any Old-Fashioned Dahlias?
Any old-fashioned dahlias?
The problem with the expression 'old-fashioned' is that it lacks a specific time.
The reader can simply fill in a time frame.
When it comes to old-fashioned dahlias, it might be appropriate to say the nineteenth century. It was at that time that they began to appear in American gardens.
By the end of the nineteenth century dahlias had become a garden favorite.
Here is the cover of the 1888 seed catalog from the Childs Company in Long Island, New York. [below] In the image colorful dahlias fill the blue and gold vase.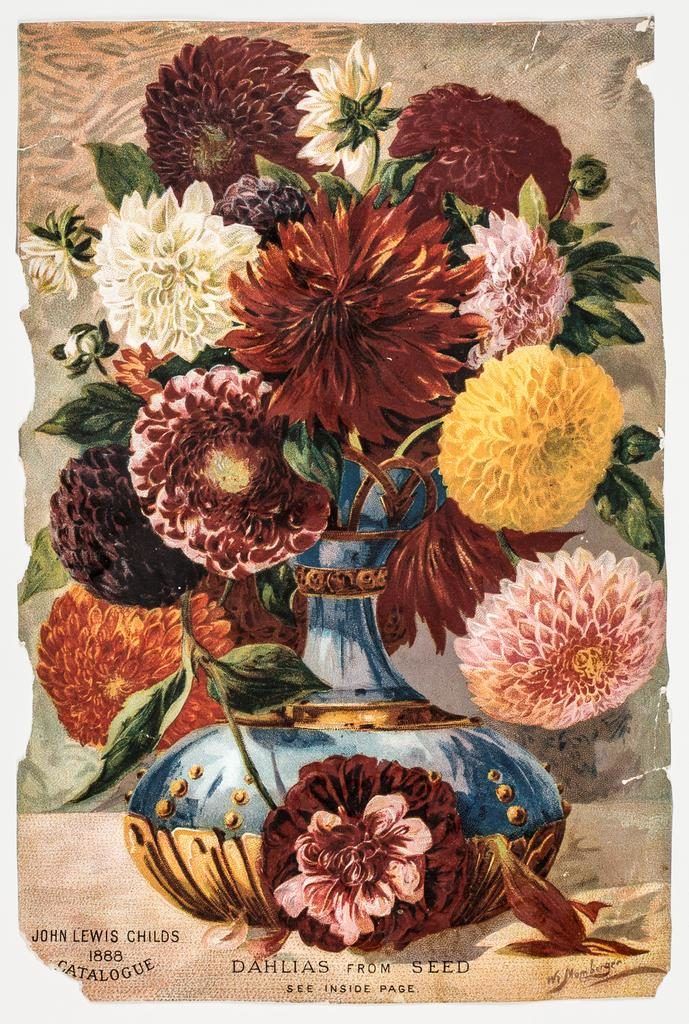 A blog called Gardenista from Meadowburn Farm in New Jersey included an article about old dahlias. The title of the article says it all: "Dahlia Detectives: 7 Mysterious Heirlooms from an Earlier Century"
The article takes the definition of 'old-fashioned' to mean the early 1900s when the book by Helena Rutherford Ely appeared, A Woman's Hardy Garden.
Today Meadowburn Farm, just ninety miles from New York, continues the tradition of Ely as an historic garden and working farm. Lots of dahlias appear in the garden each summer.
Dahlia 'Bishop of Llandaff'
Bill McClaren wrote about the dahlia 'Bishop of Llandaff' (1927) in his great book Encyclopedia of Dahlias.
McClaren said that the 'Bishop of Llandaff' dahlia was "one of the oldest dahlias still being grown and shown and often the jewel of the garden." This dahlia seems to have it all: old-fashioned and still popular today.
A problem with dahlias is that hundreds of varieties have appeared since the mid nineteenth century. Most of them are long gone, replaced by ever newer varieties.
Maybe one of the reasons we love dahlias is because there are so many newer varieties always available on the market.