America Introduced Foundation Plantings in Front of the House
The traditional English garden does not include the foundation plantings you see around the front of the house.
That part of the landscape was an American invention in the early twentieth century.
Allison Kyle Leopold writes in her book The Victorian Garden, "Foundation shrubbery did not come into widespread practice until after the turn of the century."
Real estate agents and nurserymen thought shrubs provided the best way to cover up the high foundation on which the house stood.  Thus, everybody used shrubs in the front of the house without any question.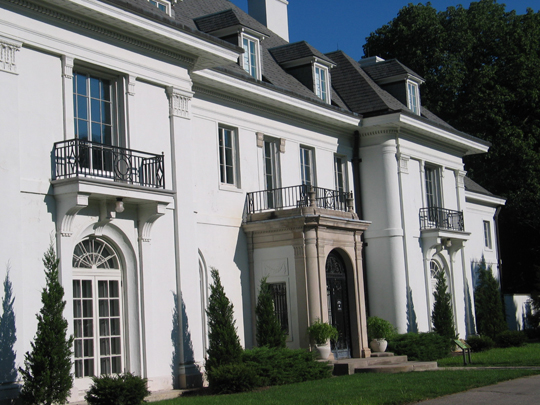 In the early twentieth century the Olmsted firm designed this landscape [above] at Oldfields, located in a small corner of Indianapolis that was a highly exclusive enclave of wealthy estates in the early 1900s. The estate is one of the best surviving examples of a Country Place Era estate in the United States.
You can see the foundation plantings along the wall of the house, which eventually became the home of the Lilly family that owned the international Eli Lilly pharmaceutical company.
What early landscape designers never imagined, of course, was that homeowners would allow foundation plantings to grow without pruning and sometimes even spread up to the second floor of the house.