Advertising Determined Success of National Garden Magazines by the 1890s
By the end of the nineteenth century national magazines sought any means to grow in circulation, especially advertising.
The Ladies Home Journal, with its many pages of advertising, boasted that it enjoyed the largest number of readers among all such magazines. Advertising made the magazine's publisher Cyrus Curtis a wealthy man.
Meehan's Monthly, a garden magazine published in the 1890s in Philadelphia by nurseryman Thomas Meehan and his sons, also coveted readers across the country and promoted itself as an 'Advertising Medium.'
The magazine's readership included the leaders in the garden industry, people who owned nurseries and seed companies.  They formed the group of businesses that the publisher sought to advertise within its pages.
The Meehan's wrote in 1891, "From a business point of view we expect the support of every intelligent Nurseryman and Florist, as it is clearly their interest that the number and enthusiasm of their customers should be increased, which is the great task the magazine has started out to accomplish."
The Harper's Magazine [below] shows a sample of such garden businesses as Vick, Henderson, and Dreer who did not hesitate to advertise in the magazine.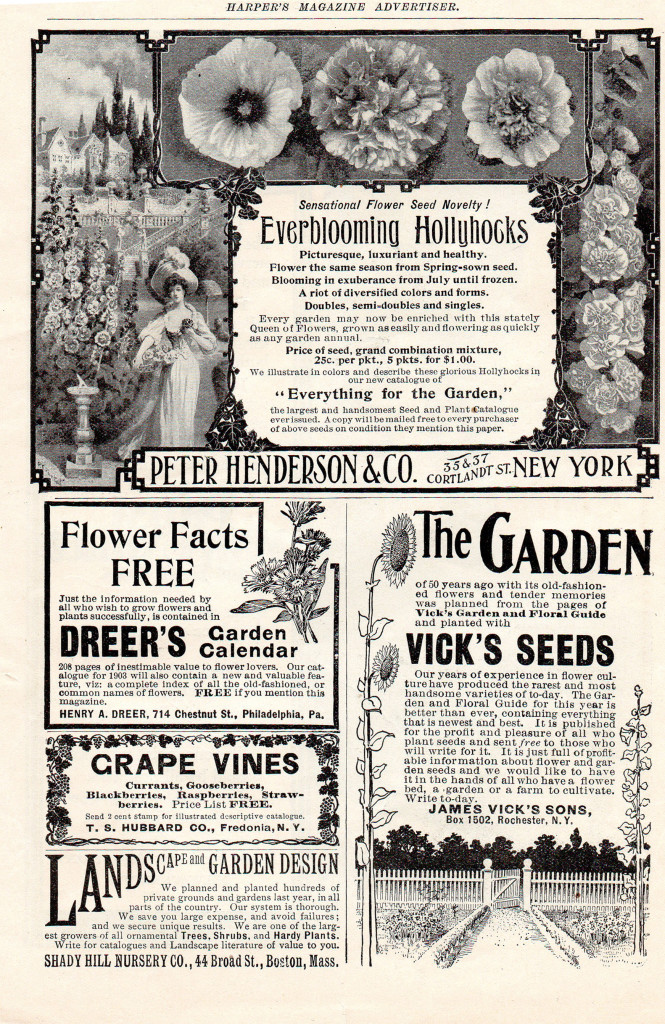 Modern advertising played a crucial role in the garden business by 1900.
No longer could simply regional or local advertising suffice, but the goal became a national audience. Any means to reach that group was within the bounds of running a sound business.
Modern advertising fueled the garden industry as it did any business at that time.
Advertising, referred to for the first time as a science, made the product known and that brought in more customers, including gardeners around the country for the newest seed.