If you are responsible for a speaker for your group's upcoming meeting, why not consider a talk on Victorian flowers?
Recently I drove to the north shore of Boston to give a talk to the North Shore Horticultural Society.
The topic was the Victorian flower garden and was based on my book All about Flowers: James Vick's Nineteenth-Century Seed Company. The name of the talk was "Victorian Flowers We Still Love."
As I walked around the small downtown area, I came across this A frame sidewalk sign promoting my talk later that evening. [below]. What a surprise that was!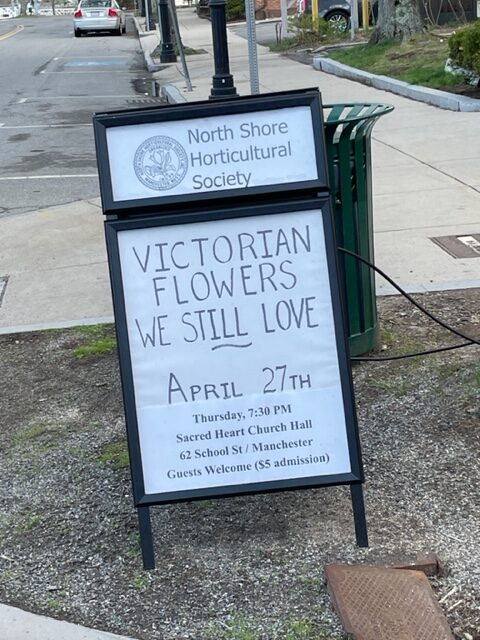 Here is the content of the talk which was presented on April 27, 2023:
"Victorian Flowers We Still Love with Thomas Mickey. Rochester, NY seed company owner James Vick (1818-1882) sold flowers to the American home gardener. Vick convinced people through his catalogs and magazine that their home would not be complete without a flower garden. Today, his selections remain popular. The flowers Vick recommended could be native plants, exotics from China or South America, long-time favorites from the English garden, or new hybrids that were coming on the market on a regular basis."
I have two other talks that I can give.
They are "The History of Growing and Selling Dahlias" and "America's Romance with the English Garden."
That evening talk about Victorian flowers provided a fun experience. The audience was exceptional. Also, they had great questions at the end.
Please contact me if you have an interest in a future talk for your group.