A Caladium Surprise: A Flower
New York nineteenth-century seed company owner James Vick (1812-1882) included a large collection of flowers in his catalog.
He also offered some plants, like the caladium, that you grow for its colorful leaves.
Vick wrote in his catalog of 1873 "This is one of the most showy foliage plants."
The plant has large green and white leaves, which sometimes come colored with a bit of rose or pink.
It continues to this day to be a wonderful plant for a bed or a container in the shade. Today, in fact, there are about one thousand cultivars, many on the market.
I have grown the caladium for several years.
This year I had a surprise,
What a surprise
To my amazement, this year I had a flower or two on the plant. I had never had that before.
Here is a photo with the flower, a yellow color, hidden in the leaves.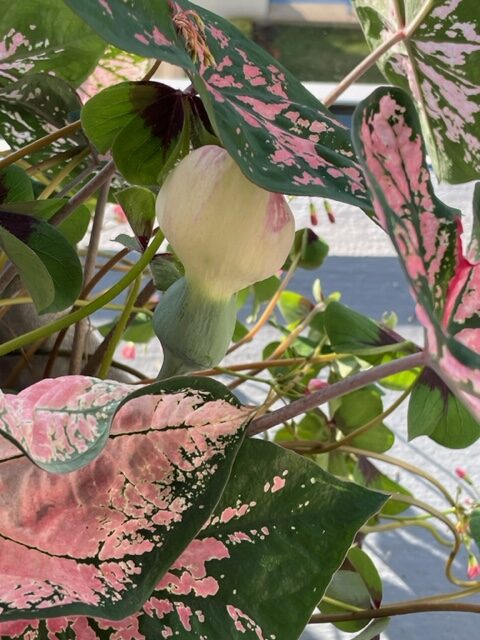 Vick would have loved it, I am sure.
Within a couple of days, the flower simply dried up and I removed it.
Over-wintering
Vick gave some advice on keeping the bulb for next year.
He wrote: "Roots should be taken up in the autumn, and treated like a Dahlia."
Thus, next summer, you will be able to enjoy this lovely foliage plant once again.