Nineteenth Century Garden Writer Commented on Garden Catalogs
Recently I came across a garden book written in 1887 by the son of  George Ellwanger who started Rochester, New York's Mount Hope Nursery  in 1840. Mount Hope  became an important source for trees and shrubs and shipped them across the country.
The younger Ellwanger, whose name was also George,  called his book The Garden's Story.
In the book he commented on the popular garden catalog.
Ellwanger's language stretched beyond the boundaries of clear writing. The style, reflecting the Victorian influence of that decade, reeked of a bit of exaggeration, especially in the opening pages.
He offered a critique of the current seed and nursery catalogs which he called 'Avant couriers'.
His words speak for themselves.
Ellwanger wrote: "Avant-couriers of spring continue to blossom diurnally through the post, in the shape of flower and vegetable catalogues. These unfold  some interesting studies in form, and review new possibilities of color…to heighten the effect of the foliage and fruit of some new strain of gourd, rita-baga, or colossal onion.  The most powerful appeal of the season is a full-page plate of liver-colored tomatoes and zinnias in combination."
Then he wrote about the Moonflower: "In another distinctly aesthetic overture, a plant of the Ipomaea tribe, sent out under the name of Moon-flower, has embowered an entire cottage; while the moon itself, represented as rising in the horizon, shines only with a borrowed splendor in the presence of this high-class luminary."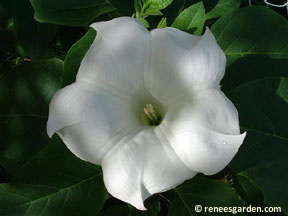 Finally, Ellwanger connected this flower with what he calls the 'flower millenium'.  He wrote, "When the catalogue informs one, in addition, that 'the flowers [of the Moon-flower], when unfolding, expand so rapidly as to be plainly seen, affording amusement and instruction, and that, being a free bloomer, the effect on a moonlight night is charming,' the reader need no longer doubt the advent of the floral millennium."
The end of the nineteenth century he considered the 'floral millennium', a time when a passion for flowers captured the imagination of the American gardener.